Two Green Juice Recipes
Posted by Bob Barcus on March 6th, 2013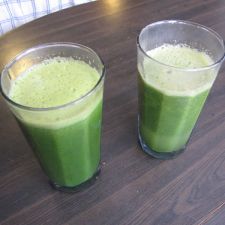 By now, all of my friends and family know that I have been juicing and eating a near-vegetarian diet (I still eat fish and shrimp). After I watched the movie Fat, Sick and Nearly Dead, I dramatically altered my eating habits with extremely positive results. If you haven't seen this movie, I definitely recommend it – it changed my life.
As I have been continuing on this juicing journey, I've been creating my own recipes. I'd like to share two of them with you today since they're basically the same:
Green Juice with Pear or Apple
1 - Pear or Apple
1 - Carrot
½ - Cucumber
1 - Celery Stalk
½" - Ginger Root
1 - Bunch of Kale
Naturally, make sure you core the pear or apple. Also, wash all of your fruits and vegetables – you don't want to juice up anything nasty. I usually start with the kale and ginger root and slowly juice my way along, leaving the cucumber for last (it helps flush all of the other stuff from the juicer). I slice everything into smaller pieces so that it doesn't overpower my juicer.
The thing about the ginger root is that it is very pungent taste. I have a hard time describing it, so if you've never tried ginger, start off with a smaller amount. I think the pear actually gives the ginger a smoother taste, although the juice is a little bit thicker. Ginger actually has a number of health properties, so I try to include it in at least one juice a day.
---
Comments
comments powered by

Disqus