Gone But Not Forgotten
Posted by Bob Barcus on May 22nd, 2013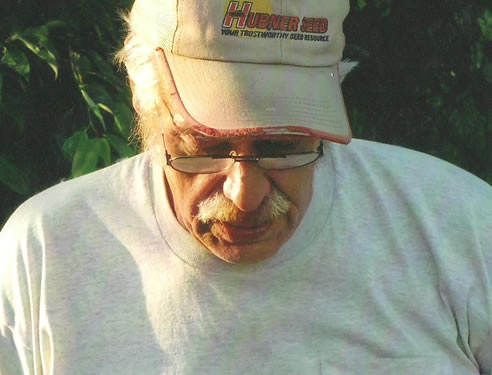 Two years ago today, my family was struck with an unthinkable tragedy - the loss of my dad. A heart attack took him away from us in only his second month of retirement. It was sudden and unexpected. There isn't a single day that goes by that I don't think about my dad.
On the day of his funeral, I gathered my strength and gave his eulogy. It was tough, but it was my duty and honor to do so. What many people didn't realize at the time was that I skipped one sentence. When I was standing there in front of so many tear-filled eyes, I knew I couldn't say the words without breaking down myself.
Below the full text of that eulogy (my one skipped sentence included). Read it and remember:
My dad was a very special man.
His whole life he worked as hard as he could to make sure that none of us ever went without. Yet, at the same time, he never cared about money, he never cared about having the most expensive car, the fanciest house or the extra comforts that so many people desire. He was simple, yet so very complex on so many different levels.
Dad came from a large family, with eleven brothers and sisters. Many of them are here with us today. Some have passed on, but most of them are still here and you share in our grief. He was special to you and I know that you miss him. His sisters called him Bobby, but someone else gave him another name – "Box da Trick-a-nocis." When I asked my dad about the name, he laughed and said, "You've been talking to your uncle Ed again, haven't you?" He just gave me a toothy grin and kept working on whatever he was doing at the time.
He fell in love and married my mom back in 1972. If you look back through all of the pictures and recall all of the memories, you start to realize that their love was special. Sure, they fought and bickered just like any other couple, but at the end of the day, they would always go to bed together. However, I'm not sure how she got any sleep, since dad was always snoring – and, of course, he would always deny that it was him. He would try to blame it on her or one of the dogs, but we all knew better.
Together, they raised two boys – two brothers that couldn't have been more different. We hardly ever saw eye-to-eye on anything and dad used to say to me, "Bobby, he's your brother and you two need to get along." I'm sure he said something similar to Bill. It took a lot of coaxing from dad, but eventually, Bill and I did get along. In fact, I would say that he and I are closer than we have ever been. I don't think that would have happened if it hadn't been for dad and I know that my dad appreciated that we did get along. It was one less thing he had to worry about.
Bill and dad were two peas in a pod. If you look at pictures of him when he was Bill's age, you can definitely tell the similarities. But the similarities didn't end there. Bill inherited his uncanny ability to work on anything mechanical. Between the two of them, I don't think there's anything that they couldn't fix. Bill also inherited dad's attitude, which did lead to a lot of verbal bantering over the years. It couldn't be helped, because Bill and dad were so alike. One of them would walk out of the garage, mumbling something under his breath, but a few minutes later, he would come back and everything would be OK.
I inherited something different from my dad. You all knew him as a grand weaver of tales. At the heart of them, all of his stories were all true, but each was slightly "enhanced" with little things to make them more interesting. My aunt Sharon told me that dad learned how to tell his stories so he didn't have to go to school. He loved to tell stories and I loved to listen to them. I listened to every story my dad told, even if he told the same story over and over again. I clung onto his every word, even as an adult. I didn't realize it at the time, but my dad was teaching me something. He was passing those stories on to me, so I could continue to tell them long after he was gone.
Most of his stories recounted some event in his life. A lot of people have asked me if my dad ever talked about his days in Vietnam. I would say to them, "Yes, he did talk about it every once in awhile. But he never told me more than what I needed to hear," and I never asked more than what I wanted to know. I respected him.
When I graduated from high school, my dad didn't want us to go to a fancy restaurant for my after-graduation dinner like the other kids. Instead, we went to Penguin Point in Plymouth and we sat down with my mom and my brother – just the four of us in a booth, together as a family. Who knows what we ordered that day? But, it felt so special that my dad wanted to take me somewhere with him. He didn't go many places, so a trip with dad was like winning the lottery. In fact, it is those simple things that make me believe that perhaps I did win the lottery – I won the best father a kid could have. But he didn't just hand me the winning numbers, he gave those same winning numbers to many of the people in this room. We are all winners to have just known him.
My dad enriched my life and those of so many people. I can't think of one person who didn't like my dad. I can't think of one time that he turned someone down for help. He was always there for everyone – regardless of what they needed and he never asked for anything in return. He never held out his hand and expected to get paid – you had to force him to take it.
Look at all the things he built in his lifetime. His work is everywhere around us. How many homes did he build while working for Shamrock in Plymouth? No one knows, but while he labored away in the factory, he was building something even more important – he was building a family. Dad wasn't working for himself, he was working for us. He loved us. He didn't have to say it, you just felt it.
He enjoyed the simple things in life. He loved to mow the yard, tinker around the garage and spend time in the garden. He would spend hours on his knees plucking the smallest weeds. I would ask him, "Dad, why don't you just till it?" and he would say, "Why would I do want to do that when I can just pull them up?" His logic baffled me since his back was always hurting, but perhaps now I can understand - the easy way isn't always the right way. Sometimes you have to endure a little bit of pain to make sure that things are done right. And that's what we're enduring now – a little bit of pain. Our hearts are broken and we all feel the pain of losing him.
It seems that he was taken away from us too early. None of us were ready for this. He had so many other things that he wanted to build here on earth, but now he can't. Heaven apparently needed another skilled carpenter. Jesus was a carpenter, too, and now he's with Him. Just imagine all the wondrous things that will be waiting for us when we join them in Heaven.
I love you, dad…
---
Comments
comments powered by

Disqus