Who Do You Believe?
Posted by Bob Barcus on October 3rd, 2013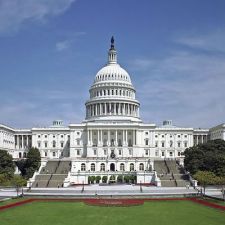 I rarely enter into a political debate online or in person, but the recent government shutdown has stirred a number feelings that I simply could not ignore. Depending on who you listen to, the Republicans are to blame or it could be the Democrats. Or it could be the Man on the Moon for all I know. Regardless, everyone is blaming everyone else, so who do you believe?
I realize that there are far left-wing and right-wing news reporting outlets (if you can call either one true journalism). The same piece of information is construed and twisted to meet whatever agenda the reporter or his organization may have. I realize that we Americans have been subjected to propaganda since before the formation of these United States, but isn't it time to grow up and tell the truth, perhaps even in an honest way?
On Facebook, my friends list is filled with people covering an entire spectrum of beliefs and positions on various topics. I have both conservative and liberal friends and I believe that learning from both sides is important to making my own intelligent decisions. I guess you could say I'm middle-of-the-road and damn proud of it. I avoid entering into ideological debates with my friends simply because they often believe the grandiloquent whoopla of their favored political party, Fox News or MSNBC.
I don't buy into the rhetoric of Republicans or Democrats and don't affiliate myself with either organization and I have never voted along party lines. I consider myself an American who is proud of his country, but not proud of his government. Our current government and its various institutions are downright shameful.
So this week, as the government shutdown began, I expected to see a flurry of activity on my Facebook wall as my friends blamed each side for partial interruption of government services. They didn't disappoint me. On one side, I read an article from the Right Wing News that headlined "Democrats Vote to Shut Down the Government and Exempt Themselves from Obamacare." The Right Wing News is obviously conservative in nature and their agenda is the blame the Democrats for every crisis in Washington.
On the other side, I read articles from decidedly liberal news sources that stated that the Republicans were to blame for the government shutdown and that the calamity in Washington wasn't to be blamed on the Democrats. Even though they are liberal in nature, the Huffington Post did accurately report that Republicans are trying to shift the blame to the Democrats for the shutdown. Not to discount the ability of Democrats to blame the Republicans in the same breath.
I hate to burst everyone's bubbles but they're all to blame. The game they're playing is all a political ploy that they will use during the election season to try to shift the balance in Washington to favor one side or the other and continue their political power-struggle in the most disillusioned government on the face of the Earth. At least in other countries, evil is easily perceived. In my opinion, our so-called representatives in Congress are not truly representative of the broad spectrum of American ideals.
An article from The Blaze reported on emails leaked from Republican House Speaker John Boehner to Democratic Senate Majority Leader Harry Reid. In the emails, it's pretty clear that the two sides can work together whenever it is mutually beneficial for themselves. In the emails, Boehner and Reid wanted to meet secretly with President Obama to exempt themselves and their aides from the Affordable Care Act. While at the same time, Boehner publically asked, "Why don't we make sure that every American is treated just like we are?"
The fact of the matter is that we Americans are not treated like those in Congress. We are subjected to a broad set of rules of laws that make our lives more difficult and harder to manage. I think they sit around in Washington and make up laws for silly things just to make it look like they're doing something productive. Our forefathers may have won our independence from the tyrannical rule of the King of England but it seems that we have given up that hard-fought freedom for another set of oppressors that make up our government in Washington.
It makes me wonder if anyone can sanely trust any of "those people" in Washington. In my opinion, our government is broken and it needs to be fixed. You can disagree with me if you like, but it's hard to argue against that fact when 87% of everyone else in this country feels the same way that I do.
Last night, I decided to read through the Constitution. I know most people don't do that on a regular basis, but I'm a little weird. I was trying to remind myself what makes this country so great and to try to wrap my mind around the cognizance of our Founding Fathers. I think they would be disgusted with the state of things in America today. Perhaps it's time for a new revolution in America.
---
Comments
comments powered by

Disqus