Grandma's Chair
Posted by Bob Barcus on September 30th, 2013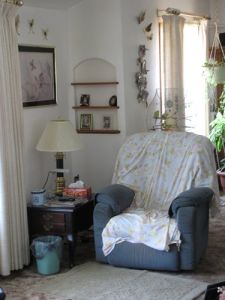 It's been awhile since I sat down and had time to blog, but here I am on the last day of the month pondering the events that have occurred over the last few weeks. Perhaps the most poignant of these was the sale of Grandma Bailey's house in Argos.
Over the last couple of weeks, many family members have been busy packing up what remained of Grandma's belongings. They neatly organized each of her possessions, sorted through mountains of clothes and reminisced whenever they came across an interesting artifact. I helped move most of the large pieces of furniture, but I took a moment to sit down one last time in Grandma's chair.
In the living room, the recliner was her primary chair. Although she occasionally claimed a spot on the massive sectional couch. In the kitchen, Grandma's chair was on the north side of the table, while out under the tree in the backyard, you could never tell which chair was hers. Most of the time it was one of the big cushy pieces of outdoor furniture or it could have been one of those cheap folding lawn chairs (only if she was drinking ice water, since those chairs had cup holders). But she could also claim a seat on the swing or at the picnic table. You just never knew which one was hers.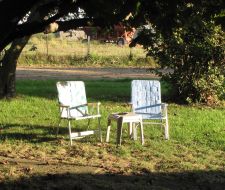 I can recall her saying on many occasions, "Now you know I'm going to sit there, so you might as well get up now." We often purposefully sat down in Grandma's chair just to bug her and when I say "we" I was actually referring to myself in most situations. I loved to sit down in her chair just have her tell me to move. If she got up and went to another room for a moment, I would sometimes slip over to her chair and sit down for a brief moment only to hear her say, "Oh, no, no no..."
"You better move over there," was another stern warning she often gave. It was without many consequences, but I don't know of anyone who didn't relinquish the chair after she gave her command. Grandma was a little woman, so there wasn't much she could do to harm my large frame, yet I always I gave in, perhaps with a little bantering involved. I often pointed to alternative seating locations, only to have her reiterate the fact that I was moving, whether I liked it or not.
Grandma's chair was sort of a misnomer since there seemed to be dozens of chairs with her name on it, even well beyond the confines of her house. Wherever Grandma went, she was able to label a chair as her own and she wasn't afraid to tell you to get out of it so she could take a seat.
When Grandma would come out to the farm, she would pick a chair at the table and if you were sitting there, you needed to move. Even when we went on trips with her out of the state, she would claim her throne in each location without fail. The funniest part was that she could claim a chair wherever she went and people would listen. It made no sense, but being the eldest daughter of her clan had certain privileges, I suppose.
Even up until the time she passed away, she was still resolute in her claim to the chair. There was less bantering and we didn't tease each other as much, but that little spark was still there. I mostly sat with her in the living room watching TV in the afternoons. We would watch the Andy Griffith Show and Bonanza. She would comment on how terrible it was that "all those good-looking guys" on Bonanza were gone. Most of the time I was the one sitting in the recliner while she took up a position on the sectional.
After Grandma died, I found myself drawn to the recliner in the living room whenever I would go over to her house. I would sit there quietly for a few moments – I guess a part of me was hoping that she would walk up behind me and tell me to move. But those words never came.
I was Grandma's favorite grandkid. I knew it and I hold no shame in that. We spent a lot of quality time together and her chair played a small role in forming the bond that we had. It was just one of those little things that may not make much sense to other people, but to me it was something special.
---
Comments
comments powered by

Disqus