Dry Cracked Hands? Give Bag Balm Ointment a Try
Posted by Bob Barcus on March 6th, 2013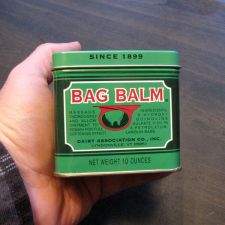 Winter has not been kind. The last couple of weeks, I've been suffering from dry, cracked hands. Considering that I do a lot of typing for my work, this posed a significant problem. I had been using Vaseline Intensive Care, but for whatever reason it wasn't working. As luck would have it, I happen to do some product research for my clients. One of those products was Bag Balm. Having lived in the country my whole life, I've known about Bag Balm and I think my dad used to use it, but I've never actually tried it until now.
Bag Balm is an ointment that was originally formulated for use on cow udders back in 1899 and is made in Vermont by the Dairy Association Company. As the story goes, when farmers started noticing how smooth their hands were getting, a new use was discovered as a medicated salve for dry, cracked hands and feet. You can apparently use Bag Balm for all sorts of skin issues – abrasions, diaper rash, chafing, etc. It contains a lanolin base with something called 8-hydroxyquinoline sulfate, which is an antiseptic. I've always been a fan of old fashioned remedies and I was definitely curious about Bag Balm, so I decided to give it a try.
While I was in Rochester yesterday, I found a 10 oz. tin of Bag Balm at Big R and made my purchase. You can probably find it at any farm store. If you can't find it locally, you can purchase Bag Balm online. I imagine that this one tin of Bag Balm is going to last me quite a while. Before I went to bed last night, I applied a generous dab of the stuff to my knuckles and worked it into the cracks. It has an old fashioned medicine smell to it, but it's not strong or overpowering. It didn't sting as much when I applied it, unlike the Vaseline, which almost always seemed like it caused more irritation.
When I got up at 4 am this morning (apparently I think I'm a dairy farmer now) I noticed that my hands didn't feel as bad and they looked like they were starting to heal. After I took my shower, I put more Bag Balm on my hands. I'm glad I did, because at 6 am, Mom called me to go out and move the trash can for her. Regardless of how many fluids I drink, the dry winter weather can he harsh.
While there are no directions on the green tin specifically for humans, it does say to apply freely and gently massage with the ointment twice daily. I think I'll take that recommendation and keep using it until my hands heal. I'll keep you apprised of my situation, but I honestly think the Bag Balm is going to work.
---
Comments
comments powered by

Disqus